William A. Paton
Pioneer Accountant, Theorist and Scholar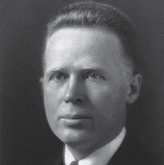 William Andrew Paton was a giant in the history of U.S. accounting education, making a lasting impact in accounting thought, teaching, and practice.
He received a Ph.D. in economics in 1917 from the University of Michigan, taught accounting at his alma mater for 45 years. He started as an instructor in 1914, was named a full professor in 1921 and at his retirement in 1959 was named the Edwin Francis Gay Distinguished University Professor Emeritus of Accounting and of Economics by the university.
In 1987, he was named "Educator of the Century" by the American Institute of Certified Public Accountants.
In the 1920's Dr. Paton was one of the first accounting theorists to argue that economic factors, like inflation and interest rates, should be considered when presenting a company's financial picture, rather than just a listing of the assets and liabilities of the owners.
In his years as a teacher, he had contact with more than 20,000 students. Many became corporate leaders, including Roger Smith, former chief executive of the General Motors Corporation, and Lynn A. Townsend, former chairman of the Chrysler Corporation.
Dr. Paton wrote dozens of books and hundreds of articles. His many awards and honors included the naming of the Paton Center for Research in Accounting at the University of Michigan in his honor. He was the editor of "Accountants' Handbook," a widely used source book for certified public accountants. He was also a founder of the American Accounting Association and in 1926 began Accounting Review, the oldest scholarly journal in accounting.