If you're interested in accounting, the Paton Center for Research in Accounting provides faculty, students and practitioners with an opportunity to become part of the ongoing developments in academic accounting teaching and research.
The Paton Center works to maintain a tradition of excellence in accounting education, excellence in teaching, and high quality academic research. Specific areas include financial reporting, management accounting, tax policy, and financial statement analysis.
We facilitate activities that attract and help to retain students and faculty of the highest caliber, organize conferences, maintain strong relationships with public accounting firms, and fund high quality research.
Our initiatives, such as the Kapnick Workshop Series and the Paton Scholarship Fund, play a vital role in maintaining and promoting the tradition of excellence in accounting education at Michigan Ross.
---
William Paton Biography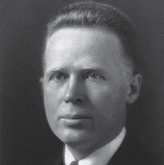 William Andrew Paton was a giant in the history of U.S. accounting education, making a lasting impact in accounting thought, teaching, and practice. In 1987 he was honored by the American Institute of Certified Public Accountants as the Accounting Educator of the Century. U-M graduates are well aware of his impact in the teaching and research of accounting. His first article on accounting appeared in 1917 and he ended up writing more than 20 books and 200 articles and monographs.
---
Advisory Board
The William A. Paton Advisory Board consists of 11 elected University of Michigan Alumni and two faculty members; one who is Faculty Director of the Paton Accounting Center and one who is Faculty Director of the Master of Accounting Program.
---
Michigan Memories
Ross Accounting alumni and supporters share their special Michigan Memories.